WELCOME…
Highlander WorldWide has always tried to give fans the best experience possible. Our 2017 event in Los Angeles was a great success with a large turn-out of attendees and guests… and we said at the time that we couldn't see a way to run a better event any time soon! Even given that position, for most of the last eighteen months, many people couldn't even travel to see their own families, so another physical convention would have proved impossible!
The question became not so much 'How could we do an even better event?' but rather 'What could we do that doesn't require everyone to stand six feet apart, even in the event of a Quickening?'
As if by a kind of magic…
For the foreseeable future, Highlander WorldWide will be running on-line conventions and events, aiming to bring the excitement of a physical convention with greater accessibility and budget-friendly aspects that fans will appreciate.
HLWW's first 'Watchercon' (technically our eleventh event) ran in August with over 150 attendees from all over the world and with 25 guests across our panels across two days. HLWW's next-step is to run more frequent events, but more specific, themed panels and guests taking place over several hours on one day.
For these Watchercons and the virtual environment, we are able to run the event with far less overheads and thus reduce the amount we have to charge for attending, making them accessible to almost anyone who wants to join in, wherever you are. All you will need is a computer or device that can utilise ZOOM. (We recommend a desktop or tablet as the best choice).
As in previous events, we will be using the secure Ticket-Spice platform to process all registrations and you can register now using the link opposite…
COMING: THIS NOVEMBER...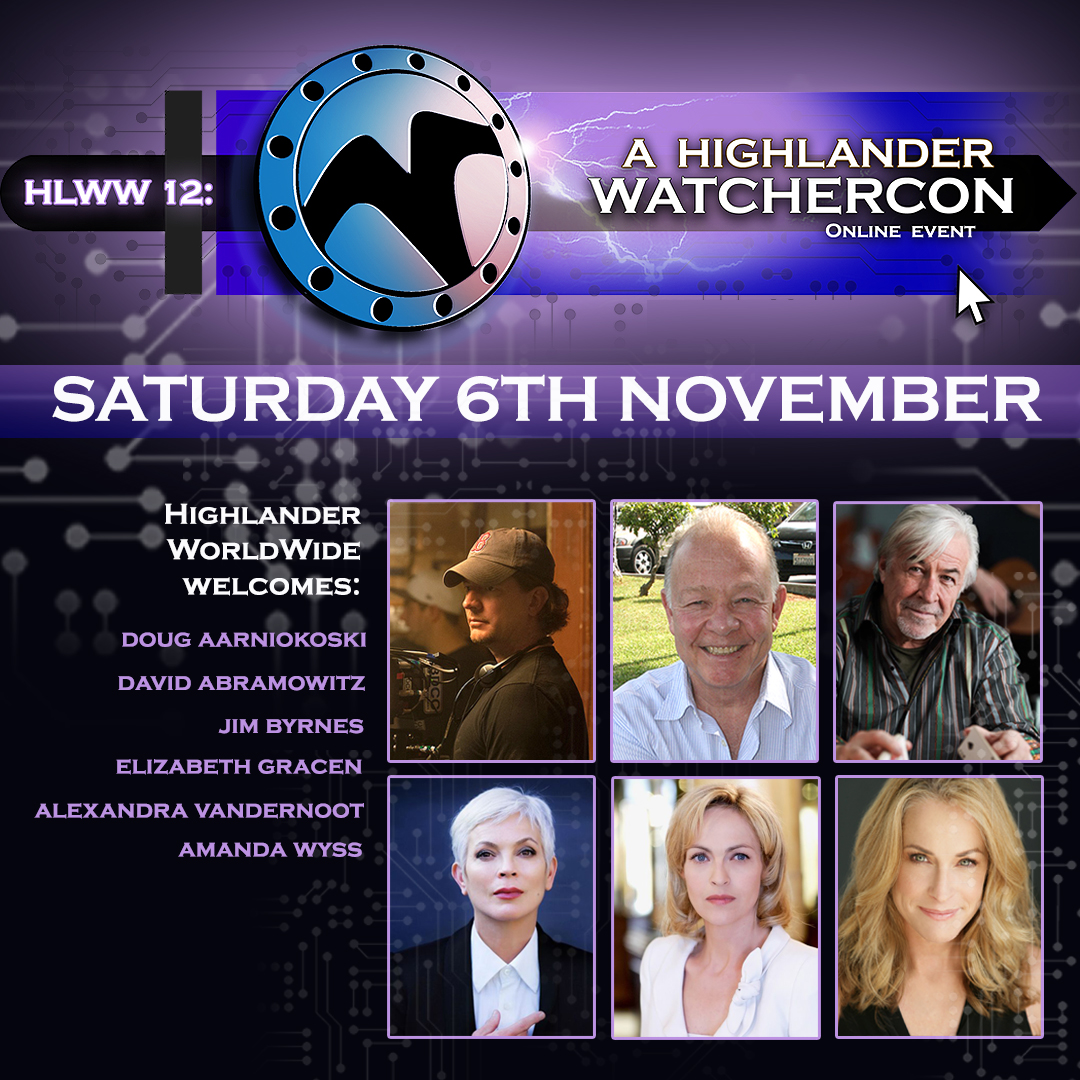 As promised, we want to give you more information on the next Watchercon event (which, for those keeping score will technically be HLWW-12 - so think of us as a very long-game advent calendar!)
The event (taking place on Saturday 6th November) will be smaller in size than the August event, but still perfectly formed and likely the template of several events to follow. We are moving the event platform to ZOOM and effectively beta-testing the set-up as the likely platform going forward (meaning it should be easier to access for everyone interested).
But who - we hear you ask/shout/yodel - will be the guests? Well, once again there'll be a mix of new names and familiar faces spread over around 3-4hrs of talk-time...
We're delighted that Highlander: Endgame director DOUG AARNIOKOSKI will be joining us (subject to work commitments). Doug's recent work also includes the likes of Criminal Minds, Clarice and he's a major player in the Star Trek revival, involved on ST:Discovery, ST:Short Treks and ST:Picard, so he'll have a lot to talk about. We're also happy that both ALEXANDRA VANDERNOOT and AMANDA WYSS enjoyed themselves so much at the August event that they will both be back for more, discussing not just their times on Highlander but their work beyond. (Unfortunately TRACY SCOGGINS, who was due to join us again, has had to pull out due to work commitments). We're especially glad that three 'veterans' of HLWW events will be taking part: JIM BYRNES aka Joe Dawson, ELIZABETH GRACEN aka Amanda... and Creative Consultant DAVID ABRAMOWITZ!
NOTE: For this event we are keeping the registrations limited to 90. We recommend getting your registrations as soon as possible.
Feel free to ask questions on the Highlander WorldWide Facebook page or via DM. We'll be happy to answer any questions!
CONDITIONS…
HLWW expects basic good manners from attendees and reserve the right to remove a participant, without recompense, if their behavior is seen to be disruptive or a hinderance to the running of the event. 
Guests' views on any subjects discussed are their own and may/may not be those of HLWW.  We expect that all the panels will be 'family-friendly' in tone and presentation but cannot absolutely guarantee specific content/language.
All advertised guests have formally confirmed their intention to  attend, but participation is based on work commitments. Should an individual guest have to withdraw, that will not entitle a attendee to a refund.
(HLWW has never cancelled an event, but in the case that the convention is unable to take place, full refunds will be given.)