Highlander Worldwide is pleased to announce that acclaimed actor, stuntman and whipmaster Anthony De Longis will be joining us for The Gathering.
Anthony has played many roles on film and television – projects as diverse as General Hospital, the original Battlestar Galactica, The A-Team, V, Star Trek: Voyager (as the recurring  villain First Maje Culluh), Masters of the Universe (as Blade), Babylon 5, Queen of Swords, Leverage, NCIS, NCIS: Los Angeles and Grimm.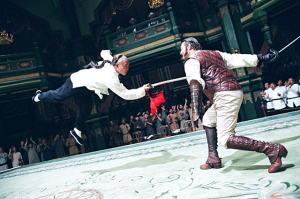 Over the years he has crossed swords with Jet Li in the classic big-screen drama Fearless and appeared in the Highlander television series in two separate but memorable roles – Lyman Kurlow (in 1994 episode 'Blackmail')  and the formidable Otavio Consone (in the classic 1997 entry 'Duende').
But just as often, he is recognised as the "Whip Master to the Stars". Behind the scenes he has trained some of the best actors in the business for some of their most memorable outings – including such talents as  Harrison Ford, Michelle Pfeiffer, Brendan Fraser, Placido Domingo, Anjelica Houston, Ellen Barkin – as well as Adam Savage and Jamie Hyneman (of Mythbusters fame).
We're delighted that both Anthony – and his equally accomplished and formidable wife Dr. Mary De Longis  – will be joining us for the event and that they will be offering a whip masterclass on the Friday – more details of which will be announced shortly.